Quick Links: Table of Contents
How Long Vizslas Live. Vizsla Life Expectancy
Generally, the lifespan of the Vizsla is from 10 to 14 years.
Moreover, a few years back, British Veterinarinan researchers performed a scientific study to determine the lifespan of the Vizsla. In this study, the scientists collected data on how long 38 pet Vizslas lived.
From the study, it was found that Vizslas have a average lifespan of 12.9 years. Furthermore, the study found that Vizslas can live for as long as 17 years.
Furthermore, researchers from the University of Georgia conducted a study to find out what are the top causes of death in Vizslas.
According to the study, the top 5 causes of death in Vizslas are:
Neoplastic Disease: Issues involving tumors
Respiratory Disease: Problems with lungs and breathing
Trauma: Issues involving injury
Gastrointestinal Disease: Any problems that affect the mouth, esophagus, stomach, intestines, colon, or rectum.
Cardiovascular Disease: Encompasses heart problems, blood pressure issues, and bleeding/clotting problems. CV issues may also be related to lung and/or breathing problems.
In this article, we will explain each of these diseases and discuss how to prevent the early occurence of each in your Vizsla to make your Vizsla live a longer.
Also, in this article, we will discuss other things you can do to ensure that your Vizsla have a longer than average lifespan.
Do you want to know how old your Vizsla is in human years? Then, check out our Vizsla age to human years calculator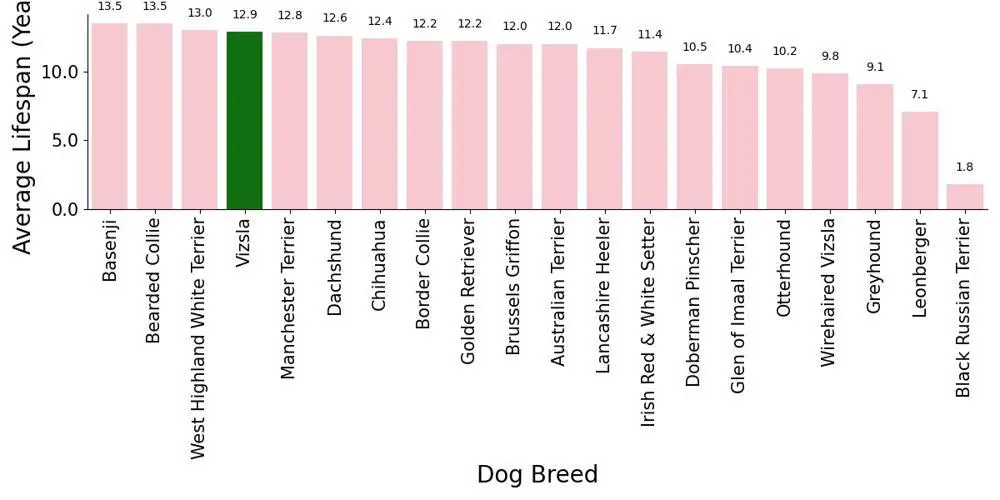 Lifespan of the Vizsla Compared to Other Dog Breeds
See in the table below how the lifespan of the Vizsla compares to the lifespan of other dog breeds.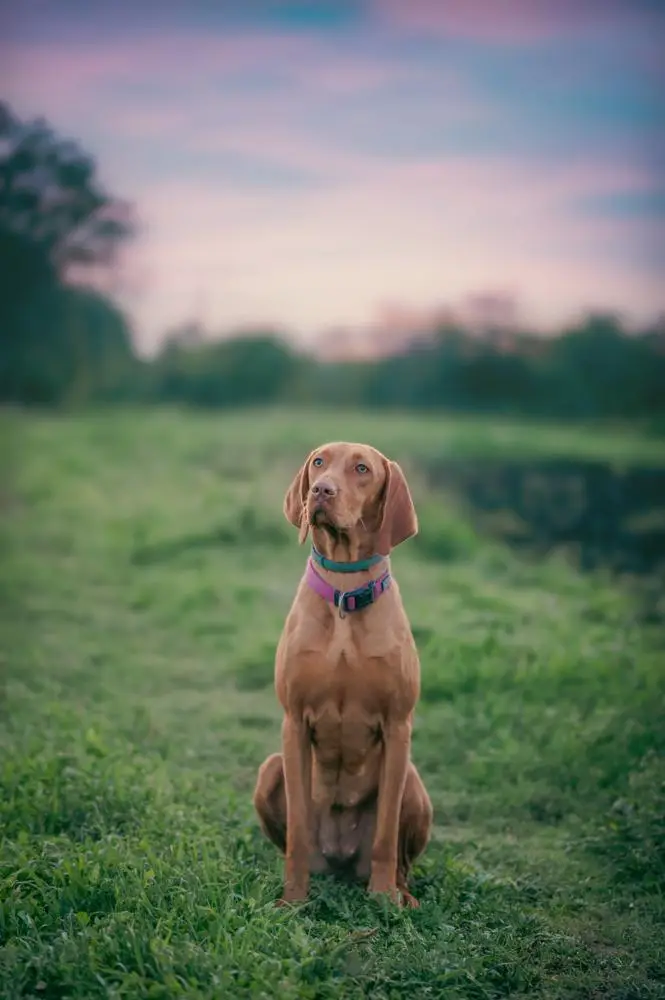 Common Causes of Death in Vizsla, and how to Prevent Them.
We will now discuss the common causes of death in Vizsla, according to scientific research. Also we will provide you advice on how to prevent these problems in your Vizsla.
Here are the causes of death, starting from the most common cause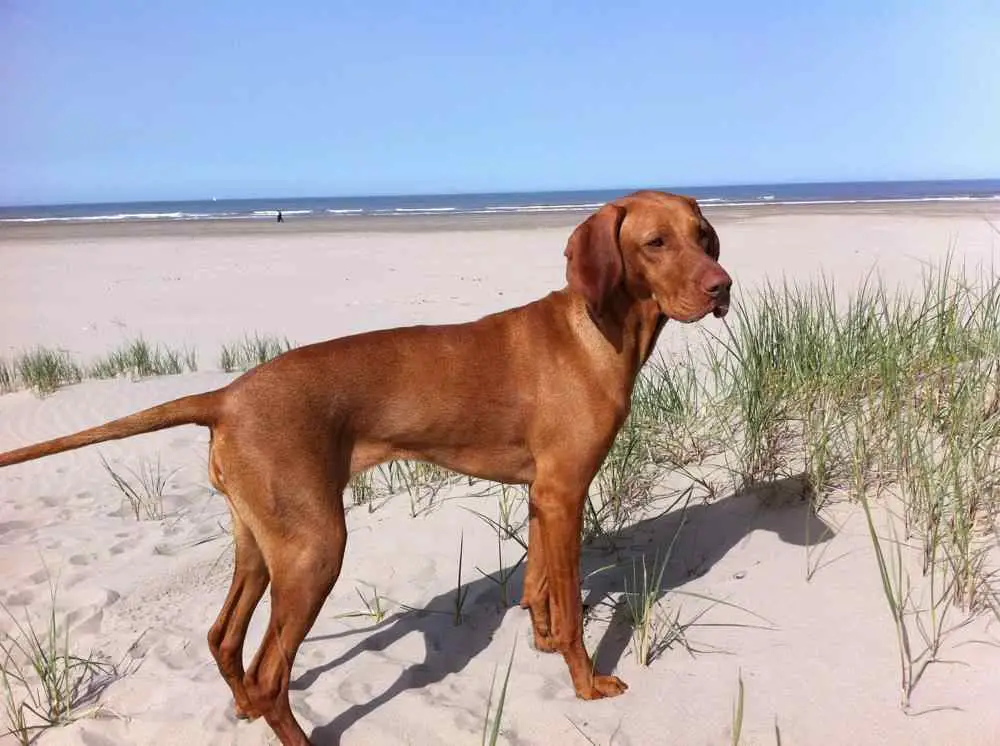 How To Prevent Genetic Problems in Vizslas
Every dog breed has a set of genetic problems to which it is predisposed, and the Vizsla is not an exception.
These disease will reduce your Vizsla`s qualilty of life. Also, these diseases can shorten your Vizsla`s lifespan.
The good news is that these diseases can be prevented in Vizsla offsprings by only breeding Vizsla that have been screened and cleared of genetic defects.
The Orthopedic Foundation for Animals (OFA) is one the organizations that keep records of which disease to which a dog breed is genetically prone.
The OFA provides breeders recommendations on which genetic diseases that breeders should screen their dog parents and puppies for.
If you want a Vizsla puppy that will grow up to be healthy and live long, make sure that your Vizsla breeder screens your puppy or your puppy`s parents for the health problems that the OFA recommends for your puppy`s breed. This will increase the chances that your puppy is free from genetic defects.
If you do not know if your Vizsla has been screened for genetic health problems, then your can use an at-home genetic screening kit like this one to check your Vizsla for genetic health problems at home. This might help you in deciding whether to get your Vizsla a pet health insurance.
The following are the health tests that Orthopedic Foundation for Animals (OFA) recommends that breeders should screen Vizslas for: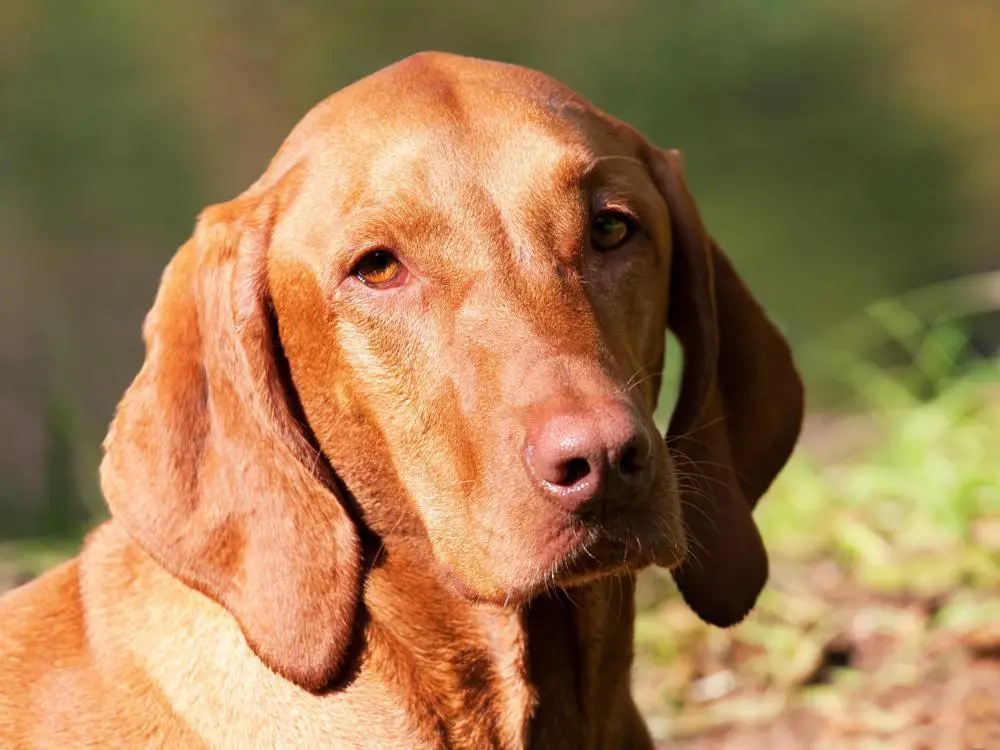 How Old is Your Vizsla in Human Years
The table below shows your human years equivalent age of your Vizsla. This table is based on a dog-to-human age study conducted by researchers from Purdue University.
Learn more about how old your Vizsla is in human years here.
In 1997, researchers from Purdue University developed a method for converting a dog`s age to its human age. Their method was based on the 1953 work of the French Veterinarian, A. Lebeau that we discussed above.
Researchers from Purdue University took Lebeau`s work further by taking into account two important factors to develop a more accurate method for converting a dog`s age into its human equivalent age:
The size of the dog: Smaller dog breeds live longer than larger breed dogs
The lifespan of the dog: Dog breeds that live longer lives will age slower than dog breeds that live shorter lives
The average lifespan of the Vizsla is 12.9 years.
Vizslas are medium-sized dogs. Vizslas weigh 45 to 65 pounds.
The method developed by the Purdue University veterinarian researchers took into account the lifespan and size of Vizsla in converting Vizsla age to human age.
The researchers used data on the lifespan and weight of 5,608 mixed breed dogs and 17,927 purebred dogs to develop their method for converting the ages of dogs (of different breed sizes and lifespans ) to their equivalent human ages.
The calculator below lets you convert your Vizsla`s age to its human age based on the Purdue University method. Just enter your Vizsla`s age in the calculator and it will compute your Vizsla`s human age. If you do not know your Vizsla`s exact age, enter an approximate age in the calculator.
Also, the table below shows how old your Vizsla is in human years based on the method developed by the researchers.
Note that your Vizsla`s human age changes day by day. Therefore, always check back to use the calculator to find your Vizsla`s up-to-date human age.
Vizsla Age to Human Age Calculator (Purdue Uni. Method)
Below is a Vizsla age to human age calculator that is based on the methods developed by researchers from Purdue University.
The calculator will tell your Vizsla`s human age based on your Vizsla`s dog birthday. Also, the calculator will tell you which day is your Vizsla`s human birthday! Try it out!
| Vizsla Age (Years) | Human Age (Years) |
| --- | --- |
| 1 | 14 |
| 2 | 21 |
| 3 | 26 |
| 4 | 32 |
| 5 | 37 |
| 6 | 42 |
| 7 | 46 |
| 8 | 50 |
| 9 | 54 |
| 10 | 58 |
| 11 | 62 |
| 12 | 66 |
| 13 | 71 |
| 14 | 75 |
| 15 | 80 |
| 16 | 85 |
How Long Do Vizslas Live in Human Years?
The average lifespan of the Vizsla is 12.9 years. In human years, the Vizsla lives for 70 years.
How Old is 3-year-old Vizsla in Human Years?
A 3-year old Vizsla is 26 years old in human years.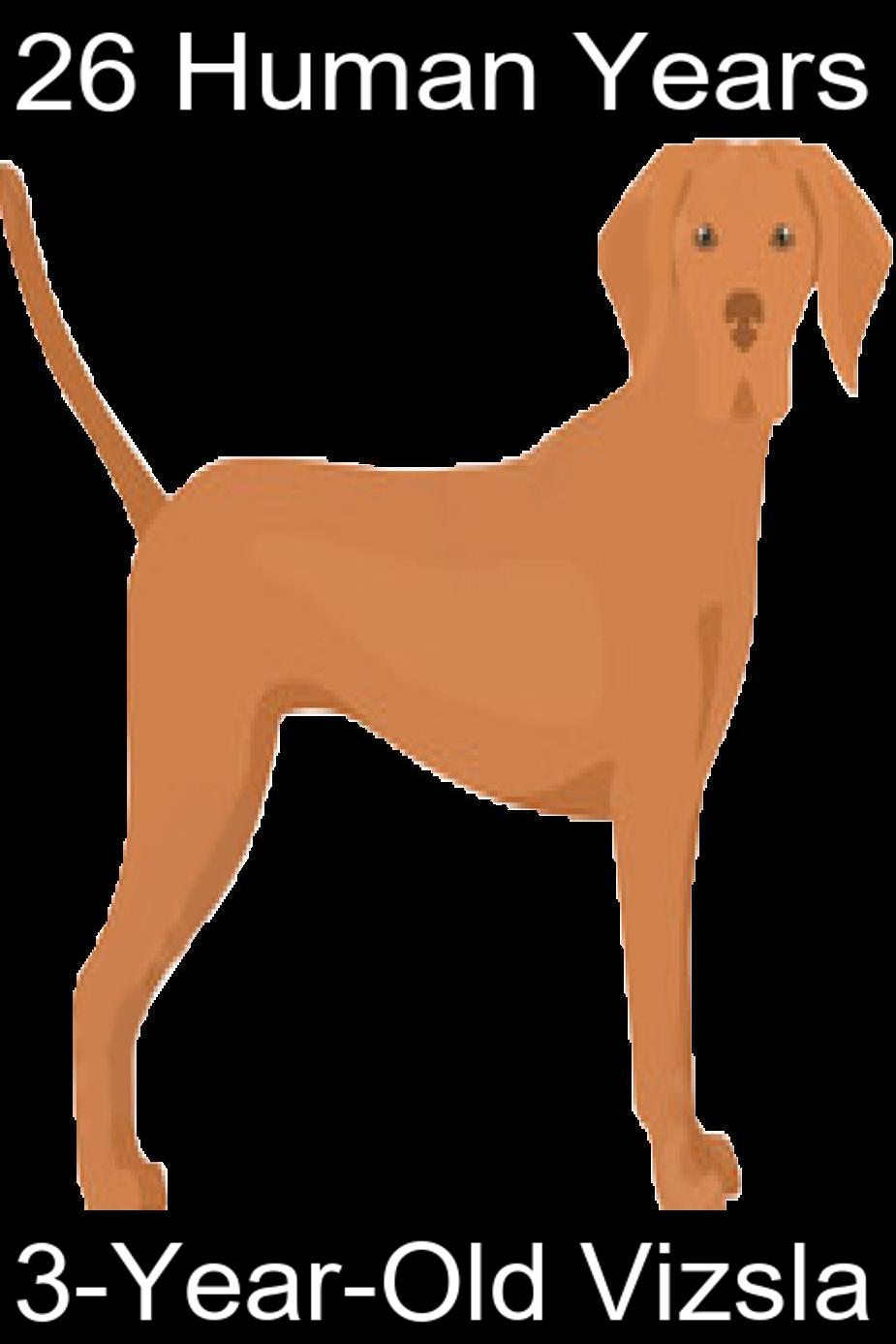 How Old is 4-year-old Vizsla in Human Years?
A 4-year old Vizsla is 32 years old in human years.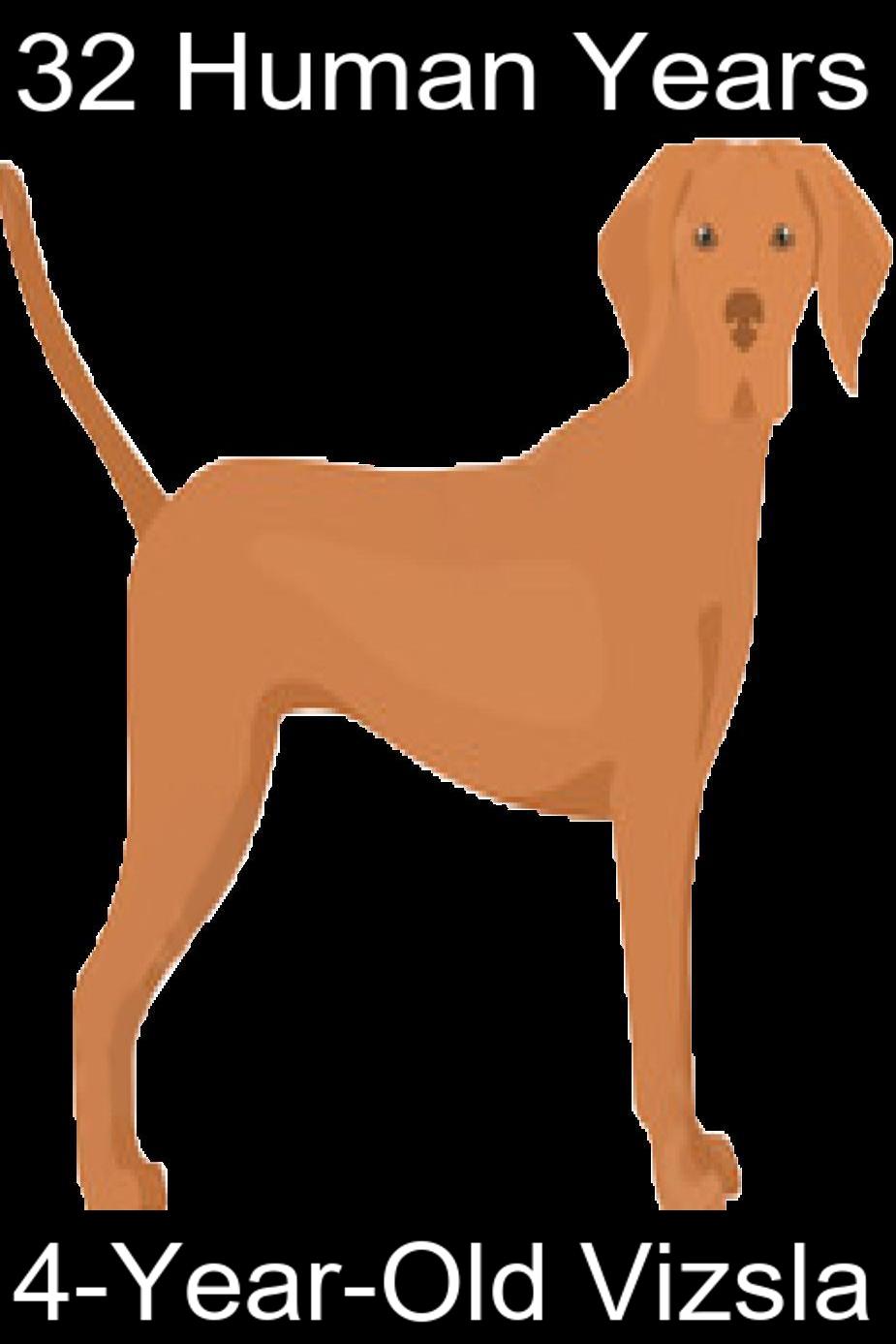 How Old is 5-year-old Vizsla in Human Years?
A 5-year old Vizsla is 37 years old in human years.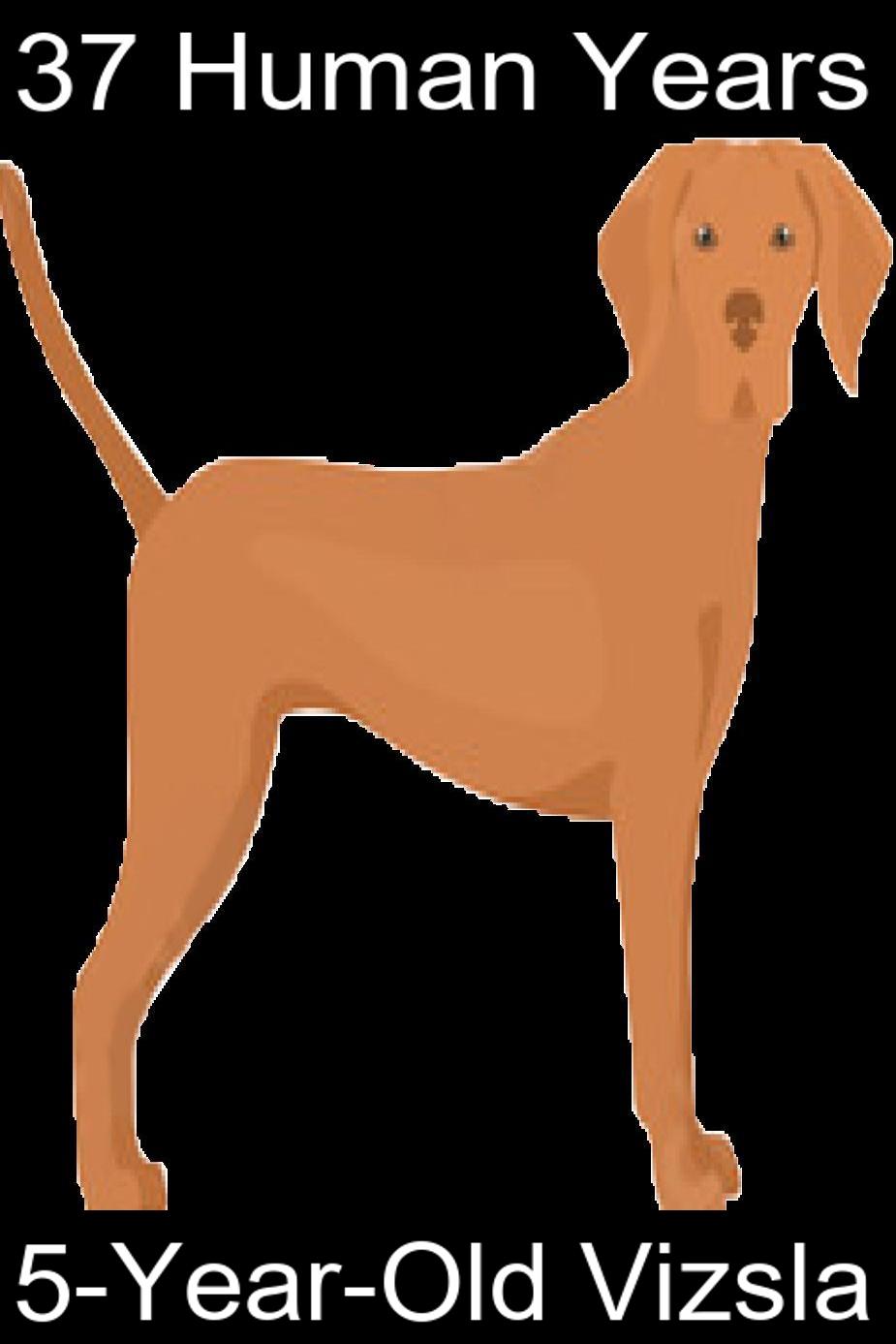 How Old is 11-year-old Vizsla in Human Years?
A 11-year old Vizsla is 62 years old in human years.
More Ways to Make Your Vizsla Live Long
Here are more things your can do to make sure your Vizsla live a long life:
Regular Exercise: Research studies have shown that one of the very effective ways to make a dog live long is to ensure that a dog is in good shape. Adequate exercise will make your Vizsla fit and make it live longer.

Good Diet: A poorly-fed, underweight Vizsla does not have a good chance of living a long life. Similarly, an overweight Vizsla will have a shorter lifespan than a Vizsla that is of normal weight. Therefore, it is important that your feed your Vizsla high-quality dog food without overfeeding your Vizsla. Check out our Vizsla feeding guide here. Learn how you can prevent your Vizsla from being overweight here.

Proper Hydration: Water is essential for your Vizsla existence. Therefore, you should make sure your Vizsla has access to clean water whenever your Vizsla needs water. However, too much water is bad for your Vizsla. See our Vizsla water drinking guide to learn more on how to properly hydrate your Vizsla.

Spaying/Neutering: Sterilizing your Vizsla might prolong its life. Check out this guideline to know when it is the best time to spay/neuter your Vizsla.

Routine Vet Care: Regular preventative visits to the vet can help catch diseases early.

Vaccinations: Always make sure your Vizsla is up to date on its vaccination.

Dental Hygiene: Your Vizsla's teeth can get infected, and if the infection goes unnoticed, that infection can spread to other parts of the body and become systemic. This could lead to a shortened lifespan. You must have your Vizsla teeth cleaned professionally at your vet's office a couple of times in its lifetime. Talk with your vet about the best ages to have these cleanings done.
Conclusion on Vizsla Life Expectancy
We hope the information we have provided will help your in increasing your Vizsla`s life expectancy.
Tate Ackerman contributed to this article. Tate is a second-year veterinary student at Kansas State University. Tate is also a concurrent Ph.D. student. She has a lot of experience reading scientific literature and communicating that information to a non-veterinary audience. Tate was a veterinary technician for a companion animal practice before she applied to veterinary school.